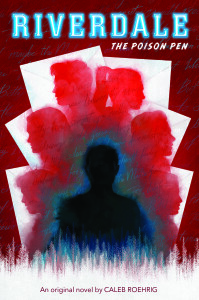 Archie, Betty, Jughead, Veronica, and the rest of the gang are all getting ready for the next stage of their lives after high school graduationor, at least, they're trying to. But then, one by one, they all receive a mysterious letter from someone calling themselves the Poison Pen.
Somehow, the letter writer knows some of Riverdale's deepest, darkest secrets. And the Poison Pen is threatening to reveal all unless Archie and his friends do exactly what they're toldfrom posting embarrassing videos of themselves to blowing up someone else's marriage.
The letters aren't stopping and the stakes are getting higher with each one. If they can't find the Poison Pen soon, Betty, Jughead, Veronica, Archie, Kevin, Cheryl, and Toni might not have a future left to protect.
This original Riverdale novel features a story not seen on the show!
Amazon | Barnes & Noble | Book Depository | IndieBound | Powell's | Books-a-Million | Indigo